Accommodations
Conference Hotel
We have reserved a block of rooms at the Radisson Woodlands Hotel Flagstaff for the evenings of September 18 (Friday night) through September 24 (Thursday night). The conference rate is $109.00 per night, plus various taxes and fees that amount to approximately 10.5% more. The reservation deadline for the group rate is August 31, 2009.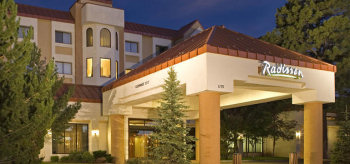 To make a reservation:
Call the hotel at 928-773-8888
or
Reserve your room online

If you book your room by telephone, mention "Lowell Observatory" to get the group rate.
Nearby food
For evening meals other than the Tuesday conference dinner, you have a number of options.
The Radisson has a good Japanese restaurant on site. Several additional restaurants are within easy walking distance (0.25-0.50 miles), and quite a few can be reached by car in less than 5 minutes. We will provide restaurant suggestions with your meeting materials.
Hotel Shuttle
We will provide shuttles between the Radisson and our Visitor Center to help you get to and from the meeting. All breaks and lunches, as well as the Tuesday conference dinner, will be served at the meeting site on our campus, so you won't need to worry about driving anywhere during the day.
Sunday, Sept 20: To the reception (6:45-7:45 PM) and from the reception (8:30-9:30 PM).
Monday, Sept 21: To the meeting (7:45-8:30 AM) and from the meeting (5:30-6:30 PM).
Tuesday, Sept 22: To the meeting (7:45-8:30 AM) and from the dinner (7:00-8:30 PM).
Wednesday, Sept 23: To the meeting (7:45-8:30 AM) and from the last session (~2:00 PM).
Driving Directions
If you wish to drive yourself from the hotel to Lowell::
Go right on Route 66 from the hotel parking lot to a stoplight. Turn left onto Milton Ave and stay in the left lane. Go through the stoplight at Butler. Just after a railroad overpass, get into the left turn lane and make a hard left onto West Santa Fe Avenue. At the end of West Santa Fe, take the right fork up Mars Hill to Lowell Observatory. Park in the visitor center parking lot (the first lot you will come to). Total distance is ~2.5 mi (~4 km).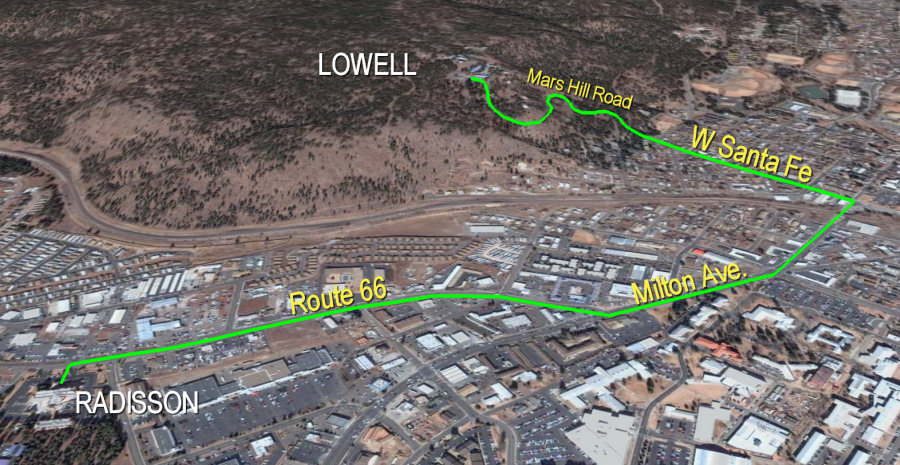 (Click to enlarge.)