<! Real keywords: Ices; Triton; Neptune, satellites; Infrared observations; Spectroscopy; Outer Solar System; Volatile Transport; Seasonal Evolution. keywords: evolution of species natural selection sex excretion bigot abortion human rights vagina shit fuck homosexual nipple charles darwin lesbian erection clitorus secular humanism cunt erotic liberal anus anarchy penis fornication blasphemy sodomy scrotum boobs 1st amendment jasmine revolution Egypt Tunisia Libya A person, organization, or nation using censoring software to block access to documents containing words such as these is violating a key principle of the free exchange of ideas that the internet was founded on and should not have access to this document. >

Near infrared spectral monitoring of Triton with IRTF/SpeX I: Establishing a baseline

Published in 2004: Icarus 172, 455-465.

W.M. Grundy1,3 and L.A. Young2,3

(1) Lowell Observatory, Flagstaff Arizona.

(2) Southwest Research Institute, Boulder Colorado.

(3) Visiting observer at NASA's IRTF, Mauna Kea, Hawai'i.
---
Abstract
We present eight new 0.8 to 2.4 Ám spectral observations of Neptune's satellite Triton, obtained at IRTF/SpeX during 2002 July 15-22 UT. Our objective was to determine how Triton's near-infrared spectrum varies as Triton rotates, and to establish an accurate baseline for comparison with past and future observations. The most striking spectral change detected was in Triton's nitrogen ice absorption band at 2.15 Ám; its strength varies by about a factor of two as Triton rotates. Maximum N2 absorption approximately coincides with Triton's Neptune-facing hemisphere, which is also the longitude where the polar cap extends nearest Triton's equator. More subtle rotational variations are reported for Triton's CH4 and H2O ice absorption bands. Unlike the other ices, Triton's CO2 ice absorption bands remain nearly constant as Triton rotates. Triton's H2O ice is shown to be crystalline, rather than amorphous. Triton's N2 ice is confirmed to be the warmer, hexagonal, N2 phase, and its CH4 is confirmed to be highly diluted in N2 ice.
---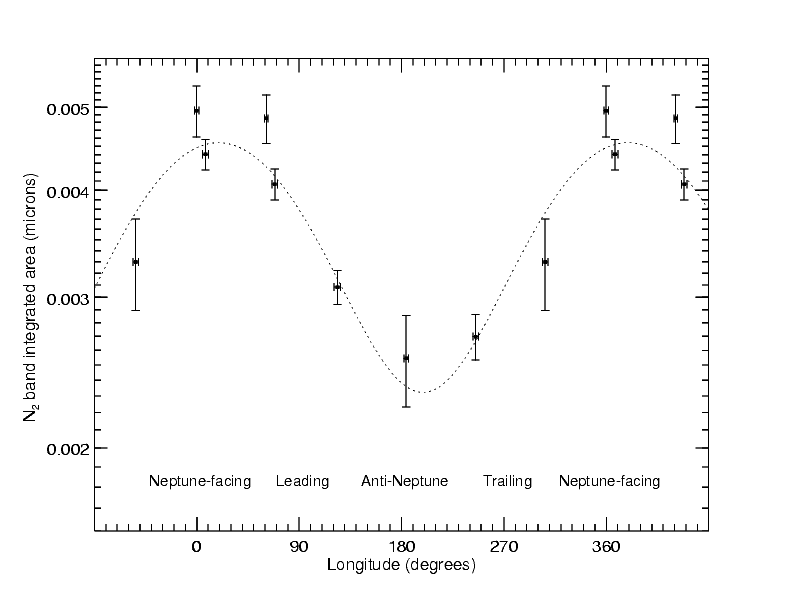 ---
The Triton spectra presented in this paper, along with many newer ones can be downloaded here.