LMI: Status (Updated March 5, 2015)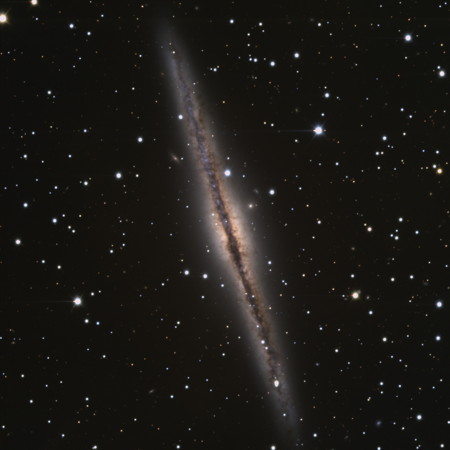 LMI is now on the telescope and being used for science while commissioning concludes. We are running with the "science-grade" chip". A small version of the "first light" image of NGC 891 can be found above; click on it for a higher res version. A complete set of our pretty pictures can be found by following the Gallery link below!
Things that remain to be done:
The flat-field lamp system still needs to be completed.
Very saturated stars bloom along the serial register direction.
There are some poorly understood issues concerning the orientation needed for the narrow-band interference filters. These are being addressed currently (Spring 2015).
These results made use of the Discovery Channel Telescope at Lowell Observatory. Lowell is a private, non-profit institution dedicated to astrophysical research and public appreciation of astronomy and operates the DCT in partnership with Boston University, Northern Arizona University, the University of Maryland and the University of Toledo. Partial support of the DCT was provided by Discovery Communications. LMI was funded by the National Science Foundation via grant AST-1005313.